CRS250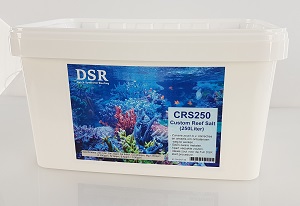 Custom Reef Salt
Specification: 250 liters, Sal: 33ppt, Alk:9dKH, Ca:440ppm, Mg:1350ppm, K:390ppm, Sr:8ppm, B:4ppm, I:0,06ppm.
Features: Pure salts with zero heavy metals. – Ease of use without compromising  adjusting flexibility of six major parameter. – Mix 250 liters of saltwater without weighing individual salts.
Application: FullDSR start – Resetting poorly performing reefsystem – Lowering heavy metals in system  with surplus due to overdose or leaching – Restoring ionic balanced.
All macro elements (NaCl, KH, Ca, Mg, MgSO4)are seperately packed. Kalium solution enriched with Sr, B, I, Mn.
Retailprice:  €49,95 –
Problemen met een overschot  van zware metalen zijn verleden tijd.  Het zware metalen vrije CRS250 zout is speciaal voor dit doel ontwikkeld. Hiermee kunnen ook alle ionen balansen hersteld worden.
read more…
Uit voorraad leverbaar bij:
Seaflower.nl/Rijswijk – Brouwers/Roosendaal – CoralandFishStore(CFS)/Breda – Diebo/Nieuwegein – Krayenhof/Nijmegen – Aquaasan/Boesingheliede(schiphol) – Aquareefstore/Meerkerk – Franc/Spijkesse.
The Total Reefing Solution
---
Available products, descriptions and packaging